in this issue
---
Five Tactics for Civil Service Multiple Choice Tests
---

You can increase your score on almost any multiple choice test by employing five simple "tactics for test taking." In fact, it is likely that you could increase your final score by between five and ten percentage points by using these test taking tactics! That means if you studied enough to score eighty, these tactics can get you a score of eighty-five or ninety.



Quick Links...
---
Dear Raymond,
Our mission is to bring you cutting-edge law enforcement information in a web-based format. In addition to providing you a portal to Law Enforcement on the Web, we bring you original works, reviews on Law Enforcement related books and information on Law Enforcement related commercial technology.
Leadership by Example
---
<![if !vml]><![endif]>One of the best ways to improve your leadership ability is to examine the style of other great leaders. Not only is Collin Powell's "My American Journey" a fascinating read; but, every leader should follow Powell's simple rules.
Change in Public Safety Organizations: It's a Cultural Thing
---
By Dr. Ken Meyers, PhD
Being in a public safety organization leadership role, you're likely aware of the considerable difficulty involved in making significant changes to technology, procedure, administrative rules, etc. If you have attempted a determined organizational push for some major change, (sometimes even a fairly small one) which met with surprisingly limited success, probably the culture thing got you.
Featured Online Resource
---
The Society of Police Futurists International
The Society of Police Futurists International (PFI) is an organization of law enforcement practitioners, educators, researchers, private security specialists, technology experts and other professionals dedicated to improving criminal and social justice through the professionalization of policing.
Commercial Technology
---
<![if !vml]>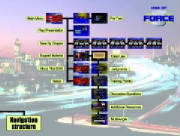 <![endif]>Some of a police officer's most critical skills are often the most perishable. A commitment to continually provide training and education to our police officers is the only way to ensure that they have the skills needed for a crisis situation. One potential way to provide quality training is through the use of DVD productions.