SEATTLE -
Advanced Interactive Systems, Inc. (ww

w

.ais-sim.com) announces the launch of the Less Lethal PRISim™

interactive training simulator.
This is the first interactive training simulator of its kind offering multiple "less lethal" capabilities. It provides a tool for law enforcement agencies to train their officers on a wider range of firearms and equipment in the use-of-force continuum.
The new system features "less lethal" weapons including PepperBallä, Taser™ and Bean Bag (shotgun). Also included in this new release is an authoring tool that features an improved Wizard, giving officers the ability to put in gun flashes and offer more scenario choices in branching; and on the practice page, the user can put in his or her own static target.
About AIS
Advanced Interactive Systems, Inc., provides comprehensive training solutions for people in positions where lives are on the line, including aviation, government, law enforcement, military, security, and first responders. AIS has delivered training programs to groups as large as 26,000.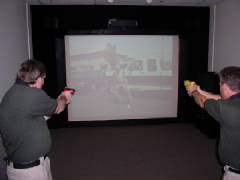 This new set of tools takes simulator training to a new level, says Steve Kalman, CEO of Advanced
Its interactive simulation systems and synthetic environments provide reality-based training in firearms handling and judgment skills, chem-bio and other hazard response tasks, as well as first responder challenges.
In addition, AIS designs and builds anti-terrorist and other special application training facilities for military and special operations groups, with installations in 32 countries. Based in Seattle, Washington, AIS is a privately owned company with offices in Washington D.C.; Monterey, California; Orlando, Florida; and London, England.