Greetings!
The recent failed terrorist attack in Times Square, as well as the thwarted Christmas Day bombing of the commercial airliner, has reminded us of the serious threat to our Country. We have revisited some of our early newsletters as well as searched through more recent information and developed ten critical pieces of information for you, your families and your colleagues. Thus, the May 2010 issue of the American Heroes Newsletter focuses on Homeland Security. Thank you for subscribing and contributing to the newsletter.
Active Shooter: Tri-fold Brochure for Response



In aftermath of the Fort Hood shootings, Air Force Education and Training command officials emphasize vigilance and readiness to respond to unexpected life-threatening events. They issued tri-fold brochure for training, education and response.
What Every Business Owner Should Know about Homeland Security
The top ten issues business owners and other community leaders with multiple resources for each issue.
Needs Assessment
The International Association of Chiefs of Police conducted a Homeland Security Preparedness Survey. The survey, sponsored by ITT Industries, was sent to more than 17,000 state and local law enforcement agencies. The results of the survey were not surprising; nine out of ten law enforcement agencies did not feel they were adequately prepared to prevent or respond to a terrorist event. Moreover, police officers across the nation identified among the keys issues were interagency communication, specialized equipment and the lack of sufficient training.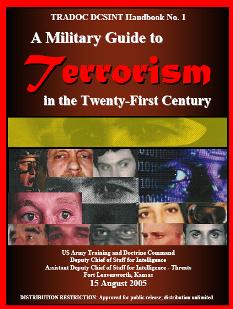 Military Guide to Terrorism in the 21st Century
In August 2005, the United States (US) Army Training and Doctrine Command, Assistant Deputy Chief of Staff for Intelligence-Threats released the Military Guide to Terrorism in the Twenty-First Century. The Guide was designed primarily for US military forces, however, other applicable groups such as state and local first responders can benefit from the information contained in the Guide. While primarily written to support operational missions, institutional training, and professional military education for US military forces in the Global War on Terrorism (GWOT), US domestic first responders will also find the Guide beneficial.
The Individual's Guide for Understanding and Surviving Terrorism
On September 18, 2001, shortly after the terrorist attacks of 9-11, the United States Marine Corps published "The Individual's Guide for Understanding and Surviving Terrorism." This 138 page document outlines terrorism and terrorist incidents. It provides the reader with information on detecting terrorists, including practical tactics for detecting surveillance and general information on protection through awareness. The guide also provides information on what to expect if taken hostage and offers advice on how a hostage should conduct themselves during hostage taking, imprisonment and rescue.
Highlighting the theme, "When Seconds Count...," this event will provide real-time, threat-based training for law enforcement, fire service, EMS/Medical, Emergency Nursing, Homeland Security and other disaster communities. Responders attending TAK-Response can expect the training and information exchange necessary to perform their jobs in the most critical situations.
More Information
Pre-Incident Indicators of Terrorist Incidents
The Identification of Behavioral, Geographic, and Temporal Patterns of
Findings from the American Terrorism Study reveal that unlike traditional criminality, terrorists are much less spontaneous, engage in substantial planning activities, and commit ancillary and preparatory crimes in advance of a terrorist incident. Building on these findings, the goals of the current project were to determine whether (1) sufficient open source data exists to examine the temporal and spatial relationships that exist in terrorist group planning, and (2) if such data do exist, can patterns of routinized preparatory conduct be identified.
Impact of terrorism on state law enforcement
State law enforcement represents about 10 percent of total police employment in the United States.1 In keeping with this employment level, state law enforcement has traditionally played an important, but relatively small role in the overall picture of policing in America. The catastrophic events on Sept. 11 served as a wake-up call to the nation regarding the threat of terrorism. More specifically, it appeared to create and shift responsibilities and paradigms among all layers of law enforcement. Soon after Sept. 11, anecdotal evidence indicated many new homeland security roles for state police organizations, such as: coordinating homeland security at the state level; collecting, analyzing and sharing critical information and intelligence; protecting critical infrastructure and key assets; securing the nation's borders, air and sea ports; collaborating with federal and local law enforcement on task forces; and, preparing for new response equipment, tactics, systems and training.
Bomb Threat Stand Off Distances Chart
The Bomb Threat Stand Off Distances Chart was developed by the National Counterterrorism Center and provides evacuation distances for various types of bomb threats.
Department of Homeland Security Risk Lexicon
Developed by the Intra-Departmental DHS Risk Steering Committee (RSC), the purpose of the DHS Risk Lexicon Project is to establish and make available a comprehensive list of terms and meanings relevant to the practice of homeland security risk management and analysis. Accomplishing this goal improves the capability of the Department and its components to assess and manage homeland security risk. To support integrated risk management for the Department, the DHS Risk Lexicon:
·Promulgates a common language to ease and improve communications for the Department and its partners;
·Facilitates the clear exchange of structured and unstructured data, essential to interoperability amongst risk practitioners; and
·Garners credibility and grows relationships by providing consistency and clear understanding with regard to the usage of terms by the risk community across the Department and its components.
Amazon Top 50 Reviewer Praises Leadership: Texas Hold 'em Style
Charles Ashbacher, a Top 50 Reviewer on Amazon.com posted a review of Leadership Texas Hold 'em Style. According to Amazon.com, a "Top 50 Reviewer" identifies Ashbacher as having "helped their fellow customers make informed purchase decisions on Amazon.com with their consistently helpful, high-quality reviews." Charles Ashbacher has reviewed over 4,800 books and received nearly 14,000 votes from readers with an 88% ranking as finding his reviews helpful.
Read On
Support the newsletter by forwarding and contributing!
Sincerely,
Lieutenant Raymond E. Foster, LAPD (ret.)